Crowd Attendance
Watching the first three games this year, I can not help but be disappointed with the attendance at our home games.  Three games into the season and we do not have a sellout.  Yesterday's game against Temple might be the smallest crowd since the 2001 stadium expansion.  That is not only disappointing, but unacceptable.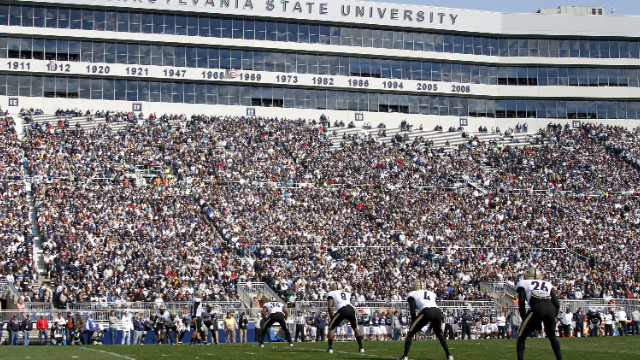 These young men are pouring their heart and soul into the program in our time of need.  The least we can do for them is show up and cheer our hearts out in support of them.  I am not sure if it is the teams we are playing, but I more than expected at least one game of 105,000 so far.  Fortunately for Penn State, this year's student body has embraced the challenge, showing up early and staying late.  These kids who are there are nothing short of amazing.  
Homecoming is two weeks away and we need to get a strong crowd.  Having over 105,000 people for Homecoming will show the nation the pride we have for our great university.  There are plenty of tickets for sale on the internet, so start spreading the word and get your friends to show up early and stay late.  If we are lucky, we will all be one as we sing the Alma Mater after the game.  For the Glory!
Photo Source: CNN.com